King Charles III
17 18 Season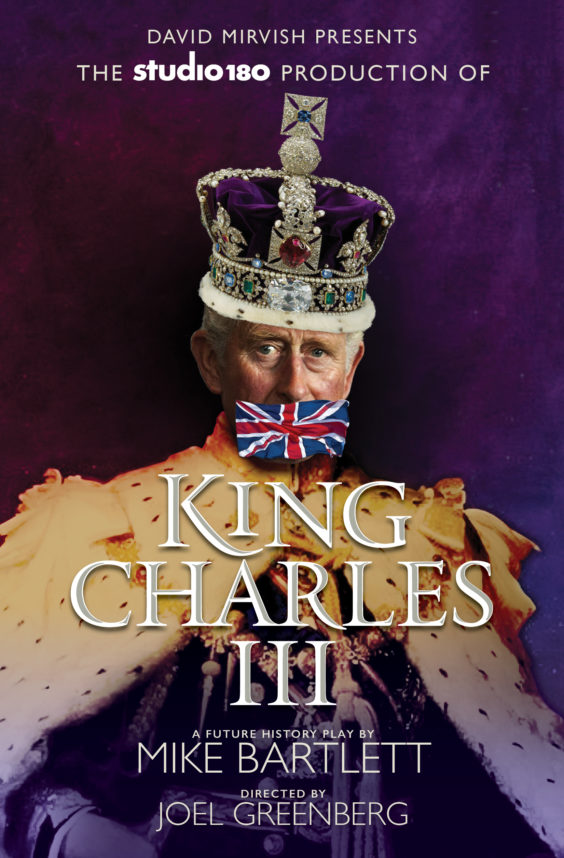 By Mike Bartlett
Directed by Joel Greenberg
David Mirvish presents a Studio 180 Theatre production
February 10 – March 4, 2018
CAA Theatre (formerly the Panasonic), 651 Yonge St, Toronto
The Queen is dead. Long Live the King?
Charles. Camilla. William. Kate. Harry. One family holds the future of Great Britain in its hands. But what will the future be? The Queen is dead. The "King-in-waiting" finally ascends the throne. Defying centuries of tradition, Charles boldly attempts to reassert the crown's power, landing himself – and his country – in a royal mess.
Exploring power and betrayal, the internationally acclaimed play, KING CHARLES III, skillfully reveals the people beneath the crowns as nuanced flesh and blood, and turns a Shakespearean lens on relationships in the world's most famous and exposed family.
Following sold-out runs in London's West End and on Broadway, Mike Bartlett's award-winning new play makes its Toronto Premiere as part of the 2017/18 Off-Mirvish season.
Written by Mike Bartlett
Directed by Joel Greenberg
Assistant Directed by Robert Motum and Sarah Orenstein
Featuring Guy Bannerman, Wade Bogert-O'Brien, Rosemary Dunsmore, Patrick Galligan, Jessica Greenberg, Sam Khalilieh, Jeff Meadows, Gray Powell, Amy Rutherford, David Schurmann, Marcel Stewart, and Shannon Taylor
Stage Managed by Chris Porter
Assistant Stage Managed by Bradley Dunn
Lighting Designed by Kevin Fraser
Costume Designed by Denyse Karn
Sound Designed by Thomas Ryder Payne
Set Designed by John Thompson
Mike Bartlett's flat-out brilliant portrait of a monarchy in crisis.

The New York Times
Gallery
Video
Get thee to the CAA Theatre for Mike Bartlett's ingenious and edgy 'future history play'…a rewarding and thought-provoking evening.

The Toronto Star
The acting from the high-powered cast, many of whom have ties to the Shaw Festival, is impeccable with a magnificent performance of the title role by David Schurmann.

Stage Door
King Charles III is a political junkie's dream

NOW Toronto
Beautiful and effective…King Charles III is one unique and certainly entertaining show to watch and opens room for dialogue

Mooney on Theatre
King Charles III is a fantastic melding of of old and new, with clashing principles mirroring modern debates. …Great performances and dialogue highlight exactly why you should buy a ticket.

Dobbernation
Company
Mike Bartlett
Playwright
For Studio 180: Cock. Mike Bartlett is currently Associate Playwright at Paines Plough. In 2011 he was writer-in-residence at The National Theatre, and in 2007 he was Pearson Playwright in Residence at the Royal Court Theatre. His play Love, Love, Love won Best New Play in the 2011 Theatre Awards UK, and his play Cock won an Olivier Award in 2010 for Outstanding Achievement in an Affiliate Theatre; he won the Writer's Guild Tinniswood and Imison prizes for Not Talking and the Old Vic New Voices Awards for Artefacts. Theatre credits include: Love, Love, Love, 13 (National Theatre), Decade (co-writer), Earthquakes in London, Cock, Contractions, Artefacts, and My Child. Radio credits include: "The Core," "Heart," "Liam," "The Steps," "Love Contract," "Not Talking," and "The Family Man," all on BBC. Screen credits include "Earthquakes in London" and "Hometown." Directing credits include Honest by DC Moore. He is currently under commission from Headlong Theatre, Liverpool Everyman and Playhouse, Hampstead Theatre, and The Royal Court Theatre.
---
Joel Greenberg
Director
For Studio 180: (selected) My Name is Asher Lev, My Night with Reg, You Will Remember Me, Clybourne Park, The Normal Heart, Our Class, Parade, The Overwhelming, Stuff Happens, Blackbird, The Laramie Project. A co-founder of Studio 180, Joel is a Chalmers and Dora award–winning playwright and director who has directed productions across Canada. Elsewhere: Ain't Misbevain', What the Butler Saw, Taking Sides, Vanities, Bells Are Ringing, Second City (Toronto and Chicago), Dames at Sea (too many times), Tonight at 8:00…8:30 in Newfoundland (all three editions), The Foreigner, Alice, Drink the Mercury and The Nuclear Power Play. Joel taught at Humber College Theatre School from 1984 to 1989 and the Drama Department at the University of Waterloo from 1991 to 2014, also serving as the Chair of each department.
---
Robert Motum
Assistant Director
For Studio 180: debut. As Director: The 10 Second Memory Project (Region of Waterloo), Dis/Connected (Aberystwyth, UK), Single & Sexy, Transience (uWaterloo), Titus Andronicus (Synchro Theatre). As playwright: A Community Target (Outside the March/Why Not Theatre), Lockdown (Driftwood Theatre), Guidebooks from Memory (published by the Region of Waterloo). Robert recently completed his MA in Practising Performance at Aberystwyth University in Wales (Prince Charles' alma mater). With a practice rooted in site-specific theatre, Robert has staged work on an active city bus, in a dorm room, over Snapchat, in a vacant Target, on the streets of Leslieville, in a castle, and occasionally even in a theatre space. Robert was a participant in the 2017 Stratford Festival Playwrights' Retreat.
---
Sarah Orenstein
Assistant Director
For Studio 180: (Acting) My Name is Asher Lev, God of Carnage, The Normal Heart, Stuff Happens. Sarah has appeared on stages across Canada, from her hometown of Halifax to the Queen Charlotte Islands, winning multiple awards in her career. Some of her many Film and T.V. credits include the film Albatross and the series Station Eleven and Less than Kosher. Selected theatre credits: 13 seasons at Shaw Festival, including Millionairess, Blithe Spirit , Councillor at Law and Heartbreak House, Tarragon Theatre including Patience, Collected Works of Billy The Kid, Scorched (Canadian tour) and The Message, 5 seasons at Stratford Festival, including Shakespeare in Love, Birds of a Kind and Nathan the Wise. She Is strongly committed to new play development and mentoring the next generation of actors and directors.
---
Guy Bannerman
James Reiss
For Studio 180: Stuff Happens. Guy was a child actor in Toronto before joining the Stratford Festival in 1964 (Guthrie Award, 1969). Guy then worked at theatres across Canada, joining the Shaw Festival in 1986 and appearing in over 4000 performances during 29 seasons there (Newton Award, 2003). After earning his MA (Drama) at the University of Essex (UK) in 1988, Guy served as artist-in- residence and/or teacher at universities including Guelph, Dalhousie, Queen's and Brock. In 2010 Guy received the Paul Reynolds Award to expand Manners of the Mandate, a program with actress Sharry Flett that introduces actors to the costumes and customs of the Victorian Age. They have since presented this work for theatre groups, universities and theatre schools across Canada. On television, Guy has appeared on Warehouse 13, The Firm and Murdoch Mysteries, and is still heard as the voice of Mr. Bear on Rupert the Bear.
---
Wade Bogert-O'Brien
Prince Harry
For Studio 180:​ ​debut Theatre:​ Saint Joan, Dracula, Mrs. Warren's Profession, A Woman of No Importance, The Divine, Pygmalion, The Sea, When We Are Married, Major Barbara, Our Betters, French Without Tears, Misalliance, When the Rain Stops Falling, Candida, The Doctor's Dilemma, An Ideal Husband, Ways of the Heart, Brief Encounters (Shaw Festival); The Prince of Homburg (Talk is Free Theatre); A Christmas Carol, Pride and Prejudice (Citadel Theatre); Sherlock Holmes and the Case of the Christmas Carol (Chemainus Theatre Festival). Film and TV:​ ​Reign (CW), Frontier (Netflix/Discovery Canada). Training: ​Graduate of George Brown Theatre School and The Banff/Citadel Professional Theatre Program.
---
Rosemary Dunsmore
Camilla, Duchess of Cornwall
For Studio 180:​ ​debut Rosemary just finished two seasons at the Stratford Festival, appearing in Tartuffe, Bakkhai, A Little Night Music, and The Lion, the Witch and the Wardrobe. Recent television includes her role as Susan Duncan on Orphan Black, and appearances on the series Between. Recent feature films are The Baby Formula (ACTRA Best Actress Award), Blood Honey, Orphan, At Home By Myself With Me and Don't Get Killed in Alaska. Rosemary appears online in three award-winning web series: Guidestones, Ruby Skye P.I. and The Plateaus. She is well known as Katherine Brooke in the Anne of Green Gables series and as Mom P.I. in the self-named CBC series. She is also a busy theatre director. Rosemary teaches at the National Theatre School and independent workshops across the country. She is the Actor in Residence at the Canadian Film Centre. Rosemary was chosen by Maclean's Magazine in 1990 for the Honour Roll of Canadians Who Make a Difference.
---
Patrick Galligan
Mark Stevens
For Studio 180: NSFW. Shaw Festival (15 seasons) highlights: The Hound of the Baskervilles, Henry V (2018), Androcles and the Lion, Dancing at Lughnasa (2017), Our Town, Dance of Death (2016), Peter and the Starcatcher (2015), The Sea, When We Are Married (2014), My Fair Lady (2011), Doctor's Dilemma, An Ideal Husband (2010), Born Yesterday (2009), After the Dance (2008), Hotel Peccadillo (2007), Rosmersholm (2006), Journey's End (2005), Man and Superman (2004), Widower's Houses, Plough and the Stars (2003). Other theatre: Measure for Measure, The Winter's Tale (Groundling Theatre); War Horse (Mirvish/National Theatre of Great Britain); The Misanthrope, Courageous, Elisa's Skin, One-Eyed Kings, The Four Lives of Marie, The Glass Menagerie (Tarragon Theatre); Richard III, Romeo and Juliet (Stratford Festival).
---
Jessica Greenberg
Jess Edwards
For Studio 180: NSFW, Cock, Our Class, Parade, Blackbird, Offensive Shadows, The Passion of the Chris. Jessica (she/her) is Studio 180's Director of Youth and Community Engagement, a co-creator of the IN CLASS program, and a core member of the company since 2004. She is a Dora-nominated actor and a leader in drama education with a passion for promoting youth empowerment and building community through theatre. As an actor she has performed on stages across Canada and the US, including Studio 180, Canadian Stage, Crow's Theatre, Mirvish Productions, Project: Humanity, Magnus Theatre, YPT, The Citadel, MTYP, Passe Muraille, Thousand Islands Playhouse, Theatre New Brunswick, Willow Cabin Theatre and Theatreworks/USA. She has appeared on The Handmaid's Tale, Murdoch Mysteries and Being Erica as well as the animated series Fish 'n Chips. At Studio 180 Jessica oversees all education and Beyond the Stage programming including the creation of study guide resources and the curation of lobby exhibits, chats, panels, talkbacks and other special events. She worked as Education Coordinator for ARCfest: Toronto's Human Rights Arts Festival, and is the Director of Child Engagement for the Child-ish Collective. She holds an Honours BA in political science and women's studies from McGill University and completed her classical acting training at Circle in the Square Theatre School in New York and as an apprentice at the Actors Theatre of Louisville in Kentucky.
---
Sam Khalilieh
Spencer, and others
For Studio 180: Stuff Happens. Elsewhere: Lo (or Dear Mr. Wells) (Nightwood Theatre/Crow's Theatre), ART (The Grand Theatre), The Enchanted Loom (Cahoots/Factory), Age of Arousal (Factory Theatre), Passion Play (Crow's Theatre/Various), Facts (GCTC).
---
Jeff Meadows
William, Duke of Cambridge
For Studio 180: debut. Other credits: over 25 productions with the Shaw Festival, including Saint Joan, Middletown, Engaged, Pygmalion, The Philanderer, The Philadelphia Story, Enchanted April, His Girl Friday, Misalliance, When the Rain Stops Falling, The President, Belle Moral, Summer and Smoke, The Crucible, Journey's End, Nothing Sacred, Man and Superman, Three Sisters, The Royal Family, Detective Story, His Majesty, The Man Who Came to Dinner, The Doctor's Dilemma. Jeff has also acted in theatres across Canada including Thousand Islands Playhouse, Citadel, SummerWorks, Crow's Theatre, Neptune, Arts Club, Theatre and Company, Vancouver Playhouse, Grand Theatre, Touchstone, Electric Company. Jeff is a graduate of Studio 58.
---
Gray Powell
Tristan Evans
For Studio 180: My Night With Reg. Selected Credits: Arcadia (Mirvish Productions); Middletown, St. Joan, Engaged, Mrs. Warren's Profession, The Intelligent Homosexual's Guide…, You Never Can Tell, Arcadia, Cabaret, Cat on a Hot Tin Roof, Hedda Gabler, Born Yesterday, The Circle (Shaw Festival); The 39 Steps (Lyndesfarne Theatre); This Lime Tree Bower (Cart/Horse Theatre); Other People's Children (Theatre Panik); The Pitman Painters (Theatre Aquarius); Hamlet Project (Necessary Angel); Festen (Company Theatre). Film/TV: ARQ (Netflix); Murdoch Mysteries (CBC); King (Showcase); Train 48 (Global); Fugitive Pieces (Serendipity Point Films); Hollywoodland (Focus Features/Miramax); Kaw (Kaw Productions).
---
Amy Rutherford
Sarah, and others
For Studio 180: Our Class. Amy was classically trained at both The National Theatre School of Canada and at The Stratford Festival Conservatory. She has since worked in film and TV and with Canada's leading directors and playwrights. She has been nominated for several Dora Mavor Moore Awards, one Calgary Critter and was named one of Toronto's Top Ten Theatre Artists by Now Magazine. Amy has performed internationally; at the Edinburgh Theatre Festival, Rwanda Arts Azimut Festival, The Ricardo Montalban in Los Angeles and at New York's PS122 theatre. Recent acting credits include: Snow White (Theatre Replacement); Infinity (Volcano Theatre/NAC/Tarragon); The Public Servant (Common Boots, Nightwood) Sherlock Holmes (Sidemart Theatrical Grocery) and As You Like it (Canadian Stage).
---
David Schurmann
King Charles III
For Studio 180: debut. Most recently seen in Toronto in Heisenberg for Canadian Stage, strangers, babies for Theatre Panik and How Do I Love Thee for Canadian Rep. Thirty-one seasons with the Shaw Festival: last appearance as Serebryakov in Uncle Vanya (2016); favourite roles include Henry in Pirandello's Henry IV, Trebell in Granville Barker's Waste and the King in Granville Barker's His Majesty. David has acted in regional theatres across the country since 1968. He has directed at Citadel Edmonton, RMTC Winnipeg, Neptune Halifax and at Shaw, Present Laughter in 2012. TV appearances include Murdoch Mysteries, Warehouse 13, Rookie Blue, Rogue and Reign.
---
Marcel Stewart
Coutts, and others
For Studio 180: debut. Marcel Stewart is a father, artist, facilitator, and arts administrator who loves smoked gouda. Marcel serves as Artistic Director of bcurrent Performing Arts and as an Artistic Associate for SpiderWebShow Performance. Marcel also sits on the Board of Directors for Essential Collective Theatre. He has worked with Soulpepper, Factory Theatre, Thousand Islands Playhouse, Obsidian Theatre, Suitcase in Point, The Theatre Centre, The Blyth Festival, Festival Players, Studio 180, The Grand Theatre, Persephone, Theatre Direct, Carousel Players, and Atlas Stage. For three years Marcel worked at Suitcase in Point as Outreach Director, co-founding the Nest Artist Residency and Electric Innovations, while also executive producing Freedom: A Mixtape and Lost & Found: A Community Mixtape. When Marcel is not creating theatre, he is an arts educator who has facilitated programming for community youth groups, professional actors, and students in university, high school, and elementary. He has taught theatre performance to students at the National Theatre School, Brock University, and Sheridan College. He was a member of the Soulpepper Academy and completed the Theatre Enhancement Program (as a Directing Foreman) through Factory Theatre. Marcel has directed the podcast play Toronto Pigeons (Factory Theatre); the digital play Meet Chloe (Carousel Players) and Serving Elizabeth (Thousand Islands Playhouse). Currently, Marcel is developing an immersive audio theatrical series. Loosely based on his dad's life in Jamaica, the story weaves together themes of home, grief, family, and the influence of Caribbean mythology. Inspired by the teachings of d'bi young anitafrika, Marcel often returns to the questions: Who am I? How am I? How did I get here? Who have I lost? What is my purpose?
---
Shannon Taylor
Catherine, Duchess of Cambridge
For Studio 180: debut. Shannon is a Dora-nominated actor whose work has taken her all across Canada. Selected theatre credits include: School for Scandal, Twelfth Night, Shakespeare in Love, The Hypochondriac, The Diary of Anne Frank, Oedipus Rex, The Sound of Music (Stratford Festival); The Road to Mecca (Soulpepper); Pride and Prejudice (Theatre Calgary/National Arts Centre); True (Criminal Theatre/Aluna Theatre); The Jones Boy, When the World was Green (Surface/Underground); Salt-Water Moon (Thousand Islands Playhouse); A Christmas Carol, A Midsummer Night's Dream, Little Women: The Musical (Citadel Theatre); The Madonna Painter (Factory Theatre); Scenes from the Bathhouse, Emily (Talk Is Free Theatre); Johnny Belinda, Pygmalion (Watermark Theatre – PEI). Training: Birmingham Conservatory; Banff/Citadel Program; Ryerson Theatre School (BFA). Awards: Mary Savidge Award (Stratford Festival); Dora nomination for The Jones Boy (Outstanding Performance).
---
Chris Porter
Stage Manager
For Studio 180: debut. Most recent: A Christmas Carol for Ross Petty. Upcoming: Anna Bolena with Canadian Opera Company. Most recent for Canadian Opera Company: Arabella; Louis Riel (as well for National Arts Centre); Ariodante; Pyramus & Thisbe; Rigoletto. Also for Ross Petty: Sleeping Beauty; Peter Pan; Cinderella. For Mirvish Productions: Once; Les Misèrables; War Horse; Ghost Stories; Rock of Ages; The Sound of Music; Dirty Dancing; The Lord of the Rings; Hairspray; The Lion King, Miss Saigon. Other engagements: Panamania; Gentlemen Prefer Broadway, for Luminato; Company, for Theatre 20; Evangeline, for The Charlottetown Festival; Jersey Boys for Dancap; Top Girls, for Soulpepper; The Rocky Horror Show for Canadian Stage Company & Manitoba Theatre Centre; O, in Las Vegas for Cirque du Soleil; Beauty and the Beast for Walt Disney Theatrical Canada; and inaugurated the first two ships for Disney Cruise Lines.
---
Bradley Dunn
Assistant Stage Manager
For Studio 180: My Name is Asher Lev, My Night with Reg, You Will Remember Me. Select Theatre Credits: Chicago (Globe Theatre); Dear Evan Hansen (Mirvish Productions); The Baroness and the Pig, Henry V (Shaw Festival); Mixie and the Halfbreeds (fu-GEN Theatre); The Comedy of Errors, A Grand Time in the Rapids (Thousand Islands Playhouse); Buying the Moose (Port Stanley); The Wizard of Oz (The Grand Theatre); The Heidi Chronicles, The Odd Couple (Soulpepper); It's A Wonderful Life (Theatre Aquarius). Other: Bradley is a graduate of the McMaster University and Sheridan College. Thanks to family and friends for their constant support.
---
Kevin Fraser
Lighting Designer
For Studio 180: debut. Other theatre credits: 30 seasons at the Stratford Festival, including recent productions of Treasure Island, Shakespeare In Love, A Little Night Music, The Lion The Witch and The Wardrobe, Pericles and Carousel. For Mirvish Productions: A Funny Thing Happened On The Way To The Forum, Medea, Orpheus Descending, The Drawer Boy. Kevin is a member of Associated Designers of Canada and is a graduate of Ryerson Theatre School.
---
Denyse Karn
Costumer Designer
For Studio 180: You Will Remember Me; Love, Dishonor, Marry, Die, Cherish, Perish; NSFW. Other theatre credits include: To Kill a Mockingbird (Stratford Festival); Art, The Mountaintop (Grand Theatre – London); Onegin (Musical Stage Co); Das Ding (Theatre Smash/Canadian Stage); The Watershed (Crow's Theatre/Porte Parole); Her2, The Carousel, The Penelopiad, Happy Woman, The List (Nightwood Theatre); Twisted, Stop Heart (Factory Theatre); The Winter's Tale (Canadian Stage); Routes (Manitoba Theatre for Young People) and Top Girls (Royal Manitoba Theatre Centre). Other: Denyse is a graduate of the Ryerson Theatre School and has her BFA from NSCAD University. She has received many Dora Mavor Moore nominations and awards, a Chalmers Award and four Merritt Awards (Nova Scotia Theatre Award) for Outstanding Set, Projection and Costume designs. Denyse is a full member of ADC. www.denysekarn.com
---
Thomas Ryder Payne
Sound Designer
For Studio 180: My Name is Asher Lev. Thomas Ryder Payne is a composer and sound designer for theatre, dance and film. Selected past theatre work includes designs for Stratford, Shaw, Mirvish, Soulpepper, CanStage, Tarragon, Factory, TPM, YPT, Crows, Modern Times, Aluna, BIBT, Nightwood, Toronto Dance Theatre, NAC, Theatre Calgary, GCTC, RMTC and many others. Thomas has received 4 Dora awards and 25 nominations.
---
John Thompson
Set Designer
For Studio 180: My Night With Reg, God of Carnage, Cock, The Normal Heart, Our Class. Other theatre credits: Speaking in Tongues, The Test, Through the Leaves (Dora Award), Festen, A Whistle in the Dark, Marion Bridge (Company Theatre); Divisadero (Necessary Angel); The Retreat from Moscow, The Tempest, The Clean House, A Christmas Carol, Humble Boy, The Shape of Things (Royal Manitoba Theatre Centre); Waiting for Godot, No Man's Land, The Mill on the Floss, Betrayal, Twelfth Night, Don Carlos, The Misanthrope (Soulpepper); The Trials of Ezra Pound (Stratford Festival); The Pessimist, Care, Alice's Affair, Helen's Necklace, Russell Hill, Little Mercy's First Murder, The Good Life, Skylight, Girl in the Goldfish Bowl, Earshot, The Road to Hell (Tarragon Theatre); Eternal Hydra (Crow's Theatre – Dora Award); Caught, Unity (1918), Blood (Theatre Passe Muraille). John teaches design at the University of Toronto Drama Centre.
---