NSFW
14 15 Season
By Lucy Kirkwood
Directed by Joel Greenberg
November 7–30, 2014
The Theatre Centre
1115 Queen Street West, Toronto
NOT SAFE FOR WORK
Lucy Kirkwood's razor sharp comedy pulls back the curtain on digital media and magazine culture, where jobs are scarce, beauty standards are punishing and personal integrity is a luxury that few can afford.
Doghouse – a tawdry men's magazine – traffics in titillation, while Electra – an elegant women's publication – caters to the notion of empowerment. But their contrasting visions of ideal femininity might just have an equally savage effect. Who will hold on to their values? Who will sell out to the highest bidder? And just how old is that girl in the photo?
North American Premiere
Beyond the Stage events
Repossessing Beauty
November 7–30, 2014
Details
Writing From Within
November 18, 2014
Details
A cracking piece, sharp, funny, and timely. Richly absorbing and inventive.

The Telegraph
Company
Lucy Kirkwood
Playwright
For Studio 180: debut. In 2007, Lucy graduated with a degree in English Literature from the University of Edinburgh, and whilst there she wrote her first full-length stage play, Grady Hot Potato. Lucy's next play, Guns or Butter, was produced at the Terror 2007 Festival at the Union Theatre, London, and was subsequently broadcast by BBC Radio. In 2008, Lucy's play Tinderbox was produced by the Bush Theatre, and in the same year Hedda, her adaptation of Ibsen's Hedda Gabler, was produced by the Gate Theatre, London, to wide critical acclaim. Lucy's play Psychogeography was produced as part of the Terror 2009 Festival. In the same year, Lucy's play it felt empty when the heart went at first but it is alright now was produced by Clean Break Theatre Co. at the Arcola Theatre. The play, which received stunning reviews, was nominated for an Evening Standard Award – Best Newcomer, and made Lucy joint winner of the John Whiting Award 2010. Lucy's stage adaptation of Beauty and the Beast, co-devised and directed by Katie Mitchell, was performed at the National Theatre as their Christmas show in 2011. In the same year, her play The Small Hours (co-written with Ed Hime) opened at the Hampstead earlier, and her play Housekeeping was performed as part of Theatre Uncut season at Southwark Playhouse. NSFW premiered at the Royal Court Theatre. Her recent success, Chimerica, premiered at the Almeida Theatre in 2013 and subsequently transferred to the West End, earning Lucy the prestigious Best New Play awards at this year's Olivier and Evening Standard Awards. Earlier this year, Lucy collaborated with Lost Dog on a Brighton Festival co-commissioned dance project, Like Rabbits, adapted from Virginia Woolf's short story Lappin and Lapinova. Lucy also writes for television, and has written for Skins (Company Pictures) and more recently created and wrote the new series The Smoke (Kudos/Sky 1). She is currently under commission to the Royal Court Theatre, the National Theatre and Manhattan Theatre Club in New York. She is also developing a new screenplay for Film4/Ruby Films.
---
Joel Greenberg
Director
For Studio 180: Cock, God of Carnage, Clybourne Park, The Normal Heart, Our Class, Parade, The Overwhelming, Stuff Happens, Blackbird, The Arab-Israeli Cookbook, The Passion of the Chris &The Laramie Project. A co-founder of Studio 180, Joel is a Chalmers and Dora award–winning playwright and director who has directed productions across Canada. Elsewhere: Ain't Misbevain', What the Butler Saw, Taking Sides, Vanities, Bells Are Ringing, Second City (Toronto and Chicago), Dames at Sea (too many times), Tonight at 8:00…8:30 in Newfoundland (all three editions), The Foreigner, Alice, Drink the Mercury and The Nuclear Power Play. Joel taught at Humber College Theatre School from 1984 to 1989 and the Drama Department at the University of Waterloo from 1991 to 2014, also serving as the Chair of each department.
---
Ian D. Clark
Mr. Bradshaw
For Studio 180: Cock & Stuff Happens. Selected theatre includes Cymbeline, Matchmaker, Grapes of Wrath (Stratford Festival); The Foreigner (Royal Alex – title role); An Ideal Husband at Walnut Street Theatre in Philadelphia, where he is privileged to have been invited eight times; and, most recently, The Importance of Being Earnest (Thousand Islands Playhouse). Ian's US appearances include productions at both the Annenberg and Arden Theatres (Philadelphia); The Constant Wife (Coconut Grove, Miami – Best Actor Award); and his own A Collection of British Rubbish comedy (Bradford Centre, Boston – Broadway-optioned). Ian is a Shaw Festival veteran and has also appeared at Canadian Stage, Tarragon Theatre and all major theatres in the country. Film and TV: 14 features, including Equus, Lilies, 32 Short Films about Glenn Gould and The Arrow; five major series, including Road to Avonlea and The Associates; starring role in the pilot for SOLD; and most recently Flashpoint, Rookie Blue, Murdoch Mysteries, Saving Hope and Reign. Ian holds an MA from McGill and has served as a jury member for the Canadian Academy during the awards season. Ian was proud to receive a Toronto Theatre Critics Award in 2013.
---
Susan Coyne
Miranda
For Studio 180: debut. Susan is well known as both an actor and writer. She has played leading roles in theatres across Canada, including the Stratford Festival (Romeo and Juliet, The Glass Menagerie, The Merchant of Venice, King Lear), the Citadel Theatre (Midsummer Night's Dream, The Cherry Orchard, She Stoops to Conquer), Tarragon Theatre (Helen's Necklace, An Acre of Time, The Valley), Soulpepper (The Winter's Tale, A Chorus of Disapproval, Platonov, Betrayal) and Nightwood Theatre (Between the Sheets). She has guest starred in the TV shows Less Than Kind and Working the Engels, and in the independent feature Picture Day. With co-creators Bob Martin and Mark McKinney, she wrote and acted in the acclaimed TV series Slings and Arrows, for which she received multiple awards. Susan is a graduate of the National Theatre School of Canada and a founding member of Soulpepper Theatre Company.
---
Patrick Galligan
Aidan
For Studio 180: debut. Shaw Festival (15 seasons) highlights: The Hound of the Baskervilles, Henry V (2018), Androcles and the Lion, Dancing at Lughnasa (2017), Our Town, Dance of Death (2016), Peter and the Starcatcher (2015), The Sea, When We Are Married (2014), My Fair Lady (2011), Doctor's Dilemma, An Ideal Husband (2010), Born Yesterday (2009), After the Dance (2008), Hotel Peccadillo (2007), Rosmersholm (2006), Journey's End (2005), Man and Superman (2004), Widower's Houses, Plough and the Stars (2003). Other theatre: Measure for Measure, The Winter's Tale (Groundling Theatre); War Horse (Mirvish/National Theatre of Great Britain); The Misanthrope, Courageous, Elisa's Skin, One-Eyed Kings, The Four Lives of Marie, The Glass Menagerie (Tarragon Theatre); Richard III, Romeo and Juliet (Stratford Festival).
---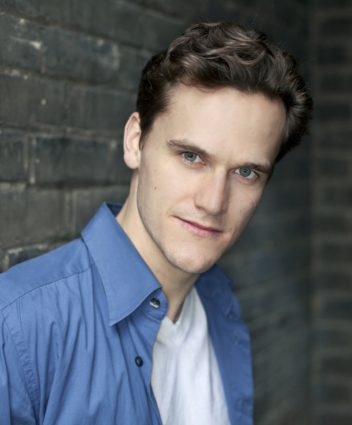 James Graham
Rupert
For Studio 180: debut. Credits include Saturninus in Titus Andronicus, As You Like It (Canadian Stage); New Jerusalem (Harold Green Jewish Theatre); 52 Pick Up (The Howland Company, Best of Fringe 2014); Much Ado About Nothing (Shakespeare Theatre Company, Washington DC); Beyond the Score (Chicago Symphony Orchestra); US National Tour of South Pacific. Film and TV: Murdoch Mysteries (CBC). James is a graduate of Northwestern University in Chicago and a founding member of the Howland Company.
---
Jessica Greenberg
Charlotte
For Studio 180: Cock, Our Class, Parade, Blackbird, Offensive Shadows & The Passion of the Chris. Jessica (she/her) is Studio 180's Director of Youth and Community Engagement, a co-creator of the IN CLASS program, and a core member of the company since 2004. She is a Dora-nominated actor and a leader in drama education with a passion for promoting youth empowerment and building community through theatre. As an actor she has performed on stages across Canada and the US, including Studio 180, Canadian Stage, Crow's Theatre, Mirvish Productions, Project: Humanity, Magnus Theatre, YPT, The Citadel, MTYP, Passe Muraille, Thousand Islands Playhouse, Theatre New Brunswick, Willow Cabin Theatre and Theatreworks/USA. She has appeared on The Handmaid's Tale, Murdoch Mysteries and Being Erica as well as the animated series Fish 'n Chips. At Studio 180 Jessica oversees all education and Beyond the Stage programming including the creation of study guide resources and the curation of lobby exhibits, chats, panels, talkbacks and other special events. She worked as Education Coordinator for ARCfest: Toronto's Human Rights Arts Festival, and is the Director of Child Engagement for the Child-ish Collective. She holds an Honours BA in political science and women's studies from McGill University and completed her classical acting training at Circle in the Square Theatre School in New York and as an apprentice at the Actors Theatre of Louisville in Kentucky.
---
Aaron Stern
Sam
For Studio 180: debut. Aaron is a graduate of Queen's University (Drama/Politics). Selected theatre credits include Peter in Peter Pan (Citadel Theatre); Danny in Danny, King of the Basement and Spelling 2-5-5 (Carousel Players); The Kid in Jake and the Kid (Theatre Calgary); For This Moment Alone (Theatre Aquarius); Privilege (Theatre Northwest); and Pobby and Dingan and Blue Planet (YPT).
---
Andrea Schurman
Stage Manager
For Studio 180: God of Carnage. Recent credits include Stage Manager of The Mountaintop (Obsidian), A Closer Walk with Patsy Cline (Globe/Persephone), 2 Pianos 4 Hands (Marquis), Other Desert Cities (The Grand Theatre), Venus in Fur (Canadian Stage), Sister Mary's a Dyke?! (Cahoots) and Blue Planet (YPT). Other credits include over 70 productions with many wonderful companies such as Obsidian Theatre, Soulpepper, Citadel Theatre, Vancouver Playhouse, Opera Lyra Ottawa, Theatre Passe Muraille, Nightwood, Factory Theatre, Ross Petty Productions, Tarragon Theatre, Project: Humanity, Alameda Theatre, Mirvish, Theatre New Brunswick, Tapestry New Opera, Opera Ontario, ShakespeareWorks, Resurgence, Toronto Operetta Theatre, AfriCanadian Playwrights Festival, b Current and the Stratford Festival.
---
Laura Baxter
Assistant Stage Manager
For Studio 180: God of Carnage & Clybourne Park (2012). Other selected theatre credits: Black Boys, The 20th of November, Arigato Tokyo, Obaaberima, The Maids, The Silicone Diaries, Breakfast, (Buddies in Bad Times Theatre), Actually (Obsidian/ Harold Green), The Story, Tails From the City, Happy Days (Common Boots Theatre), Trout Stanley, Little Pretty and the Exceptional, Age of Arousal (Factory Theatre), Elle (Theatre Passe Muraille), I Call myself Princess (Cahoots/Paper Canoe/Native Earth), Sweat, Love and Information, Venus in Fur, 7 seasons of Shakespeare in High Park (CanadianStage), Soliciting Temptation, More Fine Girls (Tarragon Theatre), The Berlin Blues, Ipperwash (Blyth Festival), Speaking in Tongues, Festen (The Company Theatre), A Christmas Carol, The Story, Macbeth (Caravan Farm Theatre). Laura is a graduate of the National Theatre School of Canada, 2005.  Thank you to my amazing wife Shawn for all your love and support.
---
Verne Good
Sound Designer
For Studio 180: The Normal Heart. Other theatre credits include: Cake and Dirt, Was Spring, Communion (Tarragon Theatre), sound design and original music for The Atomic Weight of Happiness (Stand Up Dance); The Red Queen Effect, Stockholm (Seventh Stage Theatre Productions). Sound design for The Mountaintop (The Grand Theatre); Pericles, Hirsch (Stratford Festival); Bingo! (Factory Theatre); Outside, In This World (Roseneath); Queer Bathroom Stories (Buddies in Bad Times); Free as Injuns (Native Earth Performing Arts). Verne is a personal trainer, a poet and a graduate of Bishop's University, National Theatre School and Humber College.
---
Denyse Karn
Set and Costume Designer
For Studio 180: debut. Other theatre credits include: To Kill a Mockingbird (Stratford Festival); Art, The Mountaintop (Grand Theatre – London); Onegin (Musical Stage Co); Das Ding (Theatre Smash/Canadian Stage); The Watershed (Crow's Theatre/Porte Parole); Her2, The Carousel, The Penelopiad, Happy Woman, The List (Nightwood Theatre); Twisted, Stop Heart (Factory Theatre); The Winter's Tale (Canadian Stage); Routes (Manitoba Theatre for Young People) and Top Girls (Royal Manitoba Theatre Centre). Other: Denyse is a graduate of the Ryerson Theatre School and has her BFA from NSCAD University. She has received many Dora Mavor Moore nominations and awards, a Chalmers Award and four Merritt Awards (Nova Scotia Theatre Award) for Outstanding Set, Projection and Costume designs. Denyse is a full member of ADC. www.denysekarn.com
---
Kimberly Purtell
Lighting Designer
For Studio 180: Cock, God of Carnage, Clybourne Park, The Normal Heart, Our Class, Parade, The Overwhelming, Stuff Happens & Blackbird. Kimberly is a Toronto based lighting designer for theatre, opera and dance and is thrilled to be working with Studio 180 once again. Her designs have been critically acclaimed across Canada, the United States, the United Kingdom, Prague, China, Hong Kong, Taiwan, Moscow and Mongolia. She has designed for the Stratford Festival, Shaw Festival, Canadian Stage Company, Soulpepper Theatre, Mirvish Productions, National Arts Centre and the National Arts Centre Orchestra, Pacific Opera Victoria, Opera Philadelphia, Arena Stage in Washington DC, Tapestry Opera, Hamilton Opera, Edmonton Opera, Theatre Calgary, Manitoba Theatre Centre, Citadel Theatre, Place des Arts, among many others. She has also designed productions for the Pan Am Games and the Vancouver and Beijing Cultural Olympiads. Kimberly has received three Dora Mavor Moore Awards, the Pauline McGibbon Award, a Sterling Award, and a Montreal English Theatre Award. She is the Vice President of the Associated Designers of Canada and IATSE ADC659.
---
Gallery
Sharp, funny. An edgy little satire about the continuing exploitation of women by and in the media, and the hypocrisy of those involved. Recommended.

Toronto Star ★★★.5
Strip[s] down concepts that are definitely not safe for work… Its wit is devastating.

National Post
Personally affecting… NSFW bites into a culture that traumatizes women about their bodies. I'm glad it exists, but I can't help but wish that it wasn't quite so true.

Mooney on Theatre
A very funny play that leaves you feeling very sad.

Torontoist
Wickedly funny… a sharp, witty expose of the kind of amoral behaviour that some people even praise as necessary in [the] dog-eat-dog business environment… Shows fierce intelligence combined with devastating humour.

Stage Door ★★★★